By Mark Savage
BBC Music Correspondent
YouTube stars and charity campaigners LadBaby have claimed the UK's Christmas number one single for a record-breaking fourth year in a row.
Sausage Rolls For Everyone, the duo's collaboration with Ed Sheeran and Sir Elton John, hit the top spot on Friday.
LadBaby have now surpassed the Beatles and the Spice Girls as the act with the most consecutive Christmas number ones.
Mark and Roxanne Hoyle's annual sausage roll-themed singles raise funds for the Trussell Trust food bank charity.
"It means so much to us, and thank you so much for all the support, positivity and love that has been given to us over the last few weeks… Over the last four years!" they said.
The Nottinghamshire couple first topped the chart in 2018 with We Built This City, a cover of Starship's 1985 hit; followed by I Love Sausage Rolls, their take on The Arrows / Joan Jett's I Love Rock 'n' Roll; and last year by Don't Stop Me Eatin', a cheeky version of Journey's beloved power ballad.
This year's effort was also a cover – but of a slightly different nature.
The couple hooked up with Sheeran and Sir Elton to rework their new Christmas tune, Merry Christmas, which was only released three weeks ago.
The pop superstars even appeared in the video, while Sheeran teamed up with the Hoyles to help distribute meal parcels at the Waveney Foodbank in Suffolk earlier this week.
With that combination of smart PR and public goodwill, the LadBaby song has duly replaced Sheeran and Sir Elton's original at number one just in time for Christmas.
In the process, they have become the first act to score four Christmas number ones in a row, and have tied with the Beatles as the act with the most Christmas number ones overall.
The Fab Four topped the festive chart between 1963-65 and again in 1967, while the Spice Girls achieved three in a row between 1996-98.
Martin Talbot, chief executive of the Official Charts Company, said: "To have matched The Beatles and Spice Girls [with three in a row] was a fantastic feat last year, but to top them both, while raising money and awareness for food bank providers The Trussell Trust, is remarkable."
The song has also given Sheeran his second Christmas number one after the Beyoncé duet Perfect, which was the last festive chart-topper before LadBaby started their reign four years ago.
And Sir Elton has earned his first Christmas number one. Surprisingly, he was not part of the Band Aid single Do They Know It's Christmas? in 1984.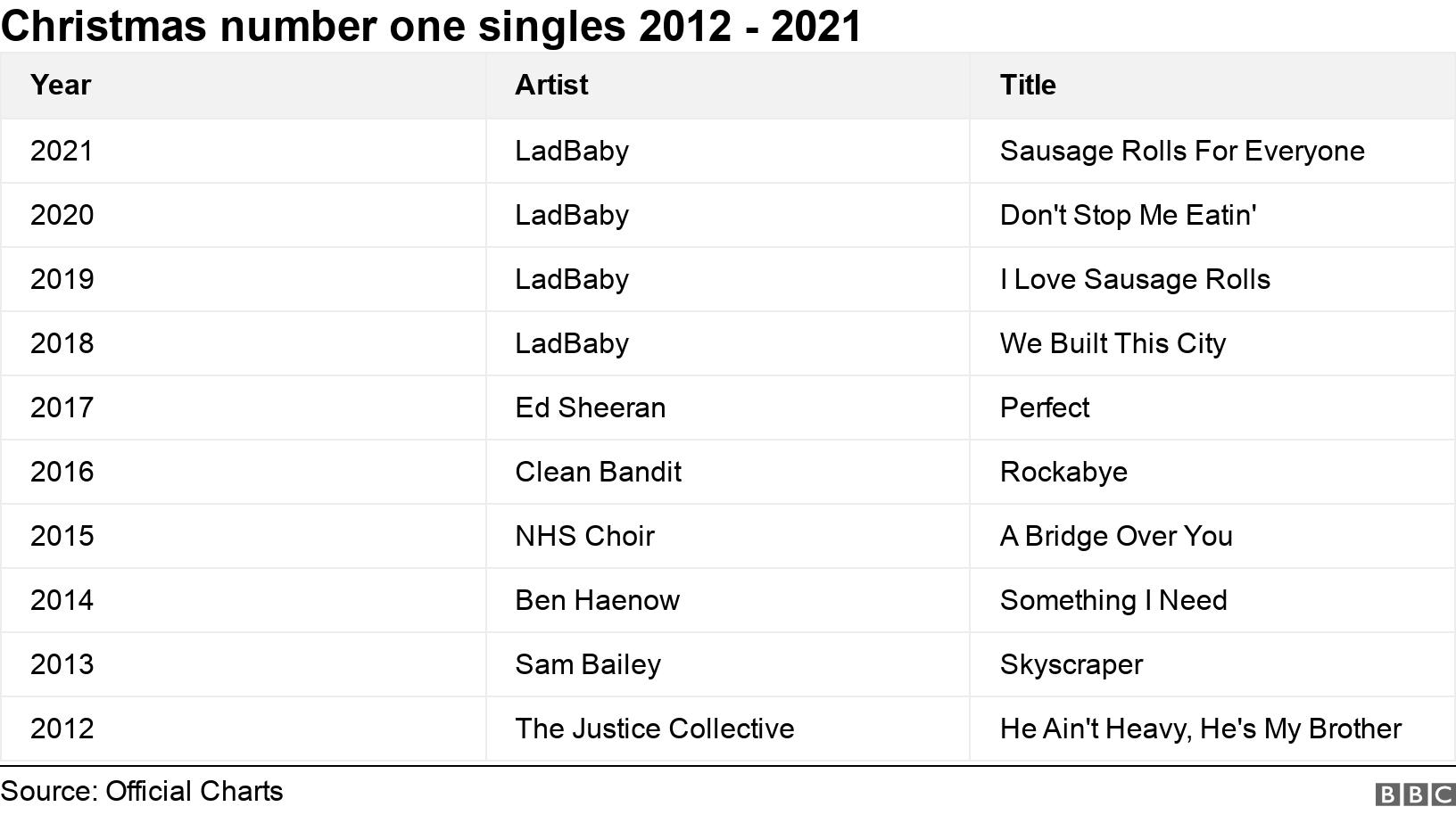 Sheeran and Sir Elton's Merry Christmas fell one place to number two in the Christmas countdown, marking only the second time in chart history that a cover version has replaced the original at number one.
The last time it happened was in 2004, when Eamon's I Don't Want You Back was supplanted by Frankee's answer song FURB.
Merry Christmas is followed by Wham's Last Christmas at three and Mariah Carey's All I Want For Christmas Is You at four. An expletive-laden protest song against Boris Johnson has also made the top five.
The highest-charting non-Christmas/charity song is ABCDEFU by 17-year-old TikTokker Gayle Davis in sixth place – suggesting it will have a clear path to number one next week, after people stop streaming their festive favourites.
The Pogues' Fairytale Of New York and Shakin' Stevens Merry Christmas Everyone were among the other classics in this week's top 10.
In the albums chart, Adele's 30 remains at the top for a fifth consecutive week. She is now tied with US pop sensation Olivia Rodrigo for the longest-running number one of the year.